Ruataniwha Kaiapoi Civic Centre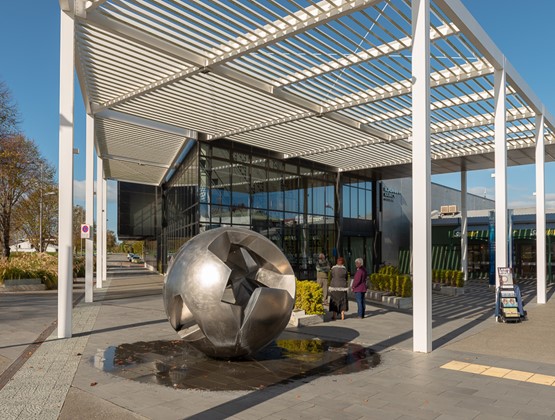 Address:
This cutting edge 2015 Municipal service success is amongst the victories to emerge from the ruins of the Canterbury Earthquake. Designed by Warren and Mahoney the understated yet impressive structure was built to house the Taonga (treasures) from the former Museum of Kaiapoi. The previous musesum, which was the former Kaiapoi Courthouse was rendered unsafe by the Canterbury Earthquakes and was demolished.
Warren and Mahoney's smart and slick design brought the Kaiapoi library, gallery "Art on the Quay" and the Museum under the one, safe, roof, opening in January 2015. The design has built in capability for expansion as the Kaiapoi community is expected to continue to grow in post-quake times. Museum treasures are numerous including an extensive collection of early photographs, local school photographs, cemetery records, family histories, and the 'Kaiapoi Record' newspaper from 1909-1915 on microfilm.
The name Ruataniwha (two good monsters) which also features in other New Zealand landscapes, was historically the name of a Ngai Tahu pa near Kaiapoi, at the confluence of the Cam and Kaiapoi rivers.
Related Websites