Newman Hall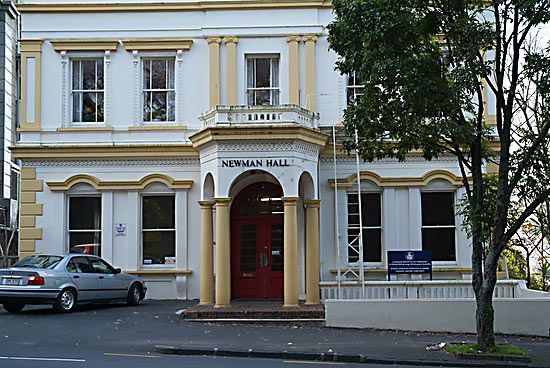 Address:
Newman Hall
by Paul Litterick
Newman Hall was built in 1863 as Bella Vista, the home of David and Rosetta Nathan. The house was built of imported brick, with a portico of Bath stone. Its design is said to have been based on a house in London. 

David Nathan had arrived in New Zealand from London two weeks after the signing of the Treaty of Waitangi in 1840. He started out by erecting a tent on the beach at Store Bay, where Jean Batten Place is today, and running a store. The store developed into LD Nathan and Company, one of the most successful businesses of the colony. Rosetta Aarons was the widow of a sea captain, who had been lost at sea on their voyage from London. She found herself, not long after David Nathan's arrival, alone in a strange land with few Jewish inhabitants. Rosetta and David married in 1841. Their wedding in Russell, conducted without a Rabbi but witnessed by the owner of the Russell Hotel, was the first Jewish marriage celebrated in New Zealand.

The house later served as a boarding house, Glenalvon, before its owners donated it to the Catholic Diocese of Auckland in 1947, for religious, charitable and educational purposes. Renamed after the English theologian John Henry Newman, the building was officially opened as the Auckland Catholic Tertiary Centre in 1962, to serve the needs of Catholic students. It also housed the Catholic Institute of Theology.

In 2015, the Diocese devised a scheme for the future of the building and its grounds, one of the largest freehold development sites left in the Auckland CBD. The proposal combined a conservation plan for Newman Hall with the building of an office block of 10,000 square metres in the garden behind it. However, the land was significant to the local iwi, Ngati Whatua: a spring that flows there once served a pa. After the arrival of Europeans, the iwi would roll barrels of water from the stream down Queen Street, to sell to the masters of ships berthed in the harbour. Later still, a commercial bottling plant operated there.

The Diocese's plans were thwarted because the spring, named Wai Ariki or Chiefly Waters, was designated as a Site of Significance to Mana Whenua under the Auckland Unitary Plan. Agreement could not be reached with Ngati Whatua, so the building and its land were sold for $11 million in 2017. The new owners are understood to be the Anglican Church's Melanesian Mission Trust, an organisation founded in Auckland in 1849 by George Selwyn, the first Bishop of New Zealand. At present, the future of the house is uncertain.